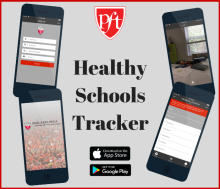 Download from the Apple App Store | Download from the Google Play Store
With this smartphone application, school staff will be able to submit real-time descriptions and images of problems they see in their buildings directly to the PFT. We will be sharing these submissions with the District, and tracking the progress of repairs. 
A Guide to the PFT Healthy Schools Tracker App
What is the app? Is it free? What kind of information can be submitted?
The PFT Healthy Schools Tracker Mobile App allows users to identify and report specific problems with building conditions in schools.
Conditions such as leaks and water damage, mold, peeling paint, compromised materials (like mold on chairs or wet books), and floor tile damage can all be reported.
It helps act as an early warning system, and can identify problems when they start and prevent more expensive or consequential problems.
How can I get started using it?
You can download the app for FREE from the Apple App Store (click here) or the Google Play Store (click here)
After you download the app, open it, then choose a school. We recommend you register, as it makes use easier.
Identify the specific location of the problem (which classroom or part of the facility), identify the type of problem, give a few details about the size or frequency of the problem; then, you can provide any more information you think it relevant.
Snap a picture and hit submit.  It's just that easy.
Is this just for PFT members?
No. Anyone can use this app. Parents, students, other staff, community members and the organizations that partner with schools can all use the app. Anyone with information about current school conditions is encouraged to report.
This is citizen science and crowd-sourcing at its best; people who are most directly affected that can identify the issues that need to be addressed.
The more data there is, the better we will be able to understand the problems and what is needed to make our schools safe and healthy.
Who gets the data?
The PFT Healthy Schools Tracker mobile app was commissioned and is being supported and used by the Philadelphia Federation of Teachers Health and Welfare Fund (PFT) in order to identify problem conditions in school buildings to help in getting solutions implemented efficiently and effectively.
The PFT gets the data from the app and has agreed to provide summaries of the reported problems to the School District of Philadelphia (SDP) as part of their work with them to address learning conditions deficiencies.
PFT  will be working to identify useful ways to share and report findings with policy leaders and the community to help inform our ability to take action.
PFT will also work with SDP on the actions, and time frames, taken to address the identified problems.
Photos may also be shared in public PFT reports.
Are people allowed to make submissions without permission?
Union members are allowed to submit information about sub-standard or unhealthy or unsafe conditions to their unions and are, in fact, being encouraged to do so by the PFT.
No one should be penalized for reporting unsafe or unhealthy conditions in our schools. The PFT has said there are no rules, regulations or other that precludes anyone from reporting problems to the PFT.  
Can I use the app and report issues anonymously?
This information is being reported to The PFT and they will not be reporting on individual users, or providing anyone's name, email address or other personal information without their permission.
It would be very helpful if users provide contact information in order to receive, updates and other feedback; in some cases, the PFT may not be able to follow-up if sufficient details are not provided and if there is no way to get back in touch with people.
Will I get a direct update about what happens with the information I submit?  Will it mean the problem gets fixed (is it like a work order request)? What will PFT do with the information?
This is not an official work order, the school district itself processes those. Staff are still responsible for reporting problems to Principals and Building Engineers, as is the current procedure.
But you should also report directly through the app as well.  This will help with problem reporting and tracking and with getting things fixed and it will help with identifying working condition patterns that need to be tackled.
There will be regular communication between PFT and district officials to address working conditions. They will be compiling information, inspecting sites and following up on the status of work orders to ensure that action is being taken to address problems and that the most serious problems are addressed quickly.
PFT will be keeping people informed about The PFT is also sharing information with, and obtaining updates about evaluations, response and outcomes by working directly with the district on these issues.
To get the app:
Click here to download from the Apple Store